Quality Policy
Quality Policy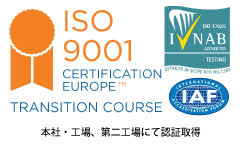 Takasho Digitec Co., Ltd. has acquired the international quality management system standard ISO 9001 at our head office and two factories. We will work continuously on quality improvement activities to further improve our customers' satisfaction and to stably provide our customers with our products and services in our contract business, lighting business, and solution business.
Quality Management System Registration Contents
Registration Number
QC12J0020
Registered Organization Name
Takasho Digitec Co., Ltd. Head Office / Factory, 2nd Factory
Location
20-1 Minamiakasaka, Kainan, Wakayama, Japan
Applicable Standard Number
ISO 9001:2015・JIS Q 9001:2015
Registered Target
1. Signs using LEDs
2. Signs and lighting equipments for commercial facilities
3. Lighting equipments for exterior gardening
Examining Body
Certification Europe
Certification Body
INAB
Date of initial certification
12th September 2012
This certificate is valid until
11th September 2021
Our Quality Policy
We will build and operate a quality management system based on the ISO9001: 2015 standard in our business activities. We will also determine our external and internal issues, the needs and expectations of our stakeholders, and periodically review them to improve our customer satisfaction.
1. We promise to set quality targets in each department based on the requirements of ISO9001: 2015, and regularly review the degree of achievement.
2. We promise to verify the effectiveness of the system and continuously improve it through management reviews.
3. We promise to communicate and disseminate this policy to all employees of Takasho Digitec and announce it to interested parties.
4. This policy applies to the following.

Head Office: 20-1 Minamiakasaka, Kainan, Wakayama, Japan
2nd Factory: 81-2 Hatagawa, Kainan, Wakayama, Japan
Business activities: Development, planning, manufacturing and sales of large signs using LEDs, nameplates, signs and lighting in commercial facilities, and lighting in exterior and gardening
"Revised on 21 June 2019
Takasho Digitec Co., Ltd.
Top Management Ryosuke Furusawa"
Certification of Registration(PDF:928KB)